Today we are publishing another 2 papers in our series of evidence reviews, which examine important issues in relation to the ageing population. This time, they focus on housing and the built environment.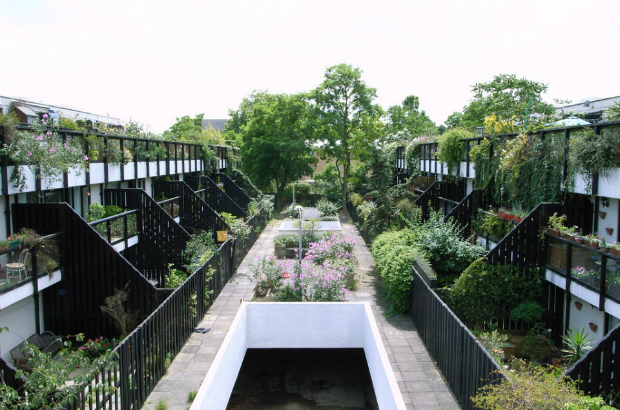 Throughout the first phase of the project it has become clear that housing plays multiple roles within an ageing population – from a mechanism for transferring wealth between generations, to a place for receiving care. On that basis, and with thanks to our authors, our latest reviews focus on the role of housing and the built environment, and the role of technological innovations in promoting healthcare at home.
Future-proofing housing and the built environment
Dr Judith Torrington's paper examines how current housing stock and the built environment can meet the needs of an ageing population, and which changes to design could affect positive change on people's lives.
The paper discusses the role under-occupation can have on the housing market and people's wellbeing, but evidence suggests there are insufficient alternatives available. Small changes to housing design, such as having well-lit stairs or a ground floor bathroom can have potentially significant impacts on people's wellbeing. This is not to underestimate the importance of a well-designed neighbourhood. Local areas which facilitate older people's community participation, access to open space, facilities, and health and social care all demonstrate positive changes in people's health.
Developing medical and care infrastructure
In this paper, Professor Gail Mountain, Dr Tim Gomersall and Dr Jo Taylor discuss the infrastructure needed to support our wellbeing, health and social care needs throughout life. In the coming decades, they predict that the home will become the centre of health and social care, with tele-health, -medicine and -care innovations allowing people to self-manage long-term conditions from home. Technology-enhanced medical interventions could increase personalisation of care, which could help overcome social, psychological and geographical barriers to engagement with care.
We'd be very grateful to hear what you think. What are the main drivers of change? Are we missing a crucial bit of evidence? Please leave your comments below.
Featured image by Steve Cadman on Flickr. Used under Creative Commons.
Sign up for email alerts from this blog, or follow us on Twitter.